How independent pharmacies can thrive
As business magnate Warren Buffet said "when the tide goes out, you will see who's not wearing any pants". Put simply, if your business model is not fit for purpose it will fail
Everything is changing, the commissioning landscape, prescription profit, increasing script volume, the ageing population and raised patient expectations, as well as increasing competition from supermarkets and online pharmacies.
There's no doubt it's a tough market and inevitably this changing landscape will impact on your pharmacy profit. So what can you do?
Five years ago we all thought supermarkets were the greatest threat, but today Dr Google and internet pharmacies are increasing the competition. But it's not only independent businesses that are under threat, just take a look at how all the big supermarkets failed to follow the trends and left the door open for Aldi, Lidl and Waitrose, for example. Meanwhile, some businesses, such as clothing store Zara, keep getting stronger and stronger.
So, where will you be in 12 months' time if you don't change with the market? Well, if you do nothing, then you will be working harder for a smaller return. But, the good news is that the ageing population and community services present opportunities for pharmacy.
Follow the money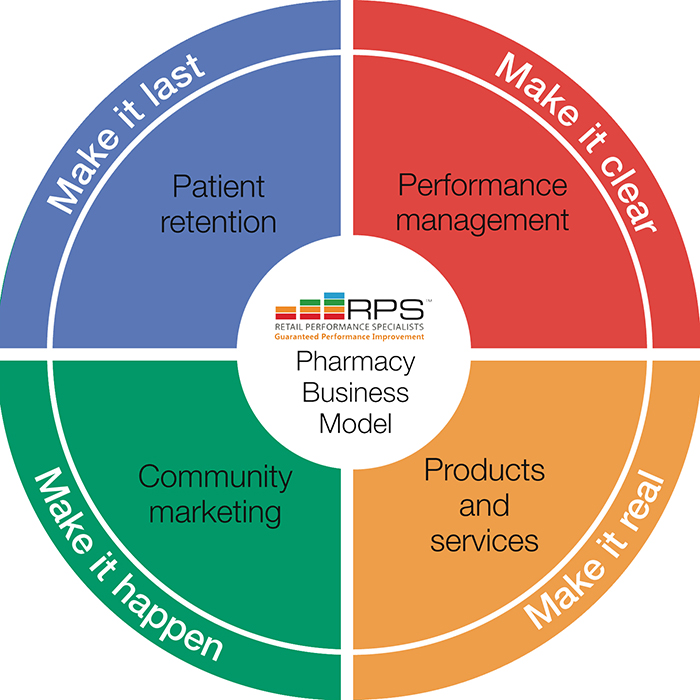 Retail expert Dennis Reid, chairman of Retail Performance Specialists, has spent 30 years analysing specialist retail trends. He has discovered that successful companies always follow the money and that this spend is driven by consumer trends.
"The consumer trend is to buy in a multichannel way," explains Mr Reid. "They shop for commodities online for price, and for convenience by popping into the local store. They think in terms of 'my pharmacy' where they get time, advice and complete care for their wellbeing. Pharmacists need to think like this too: to differentiate themselves from supermarkets and the internet," he suggests.
"The customer proposition is really important; you must be able to demonstrate the value of your offering to those who do not know you."
Locally commissioned services (for example, smoking cessation and needle exchange) in some pharmacies account for 30 to 50 per cent of profit, while in others it is 7 per cent. This is down to how the pharmacist thinks, more than what the consumer needs, he says. It's useful to think about your business from the consumer perspective, says Mr Reid:
Why should I come to you?
Why should I buy more things from you?
Why will you still be my pharmacist in 2020?
Put yourself in the shoes of your customers. "More people buy an Apple product from an Apple store than from another retailer, because the difference is clear to them and worth it. People buy from businesses where the difference is clear and it makes them feel good," he says.
Top tip
"Decide to grow"
Set the pharmacy team the target of achieving the maximum number of MURs, and see what you can achieve as a result of doing this. You might all be very surprised!
Making the change
"The reality today is that, if you do nothing, your income and time are going to suffer. The modern pharmacy is a business that thrives on change and differentiation," explains Mr Reid.
"This has to be a real change. Many people talk about community pharmacy and wellbeing, but the reality is that you just try to sell more to me in a nice way – so what? Does your pharmacy pass the 'so what' test?" The 'so what' test is about looking after customers, not just their condition, being easy to do business with and having the time to give great advice and service on their terms.
"Offering patients your time is about consultation, advice and personal solutions", says Mr Reid. "There has to be a co-ordinated approach to the 'my pharmacy' concept instead of just focusing on volume, otherwise you will fall victim to the law of diminishing returns – peddling faster but growing slower."
"Those that focus on volume alone will work harder for their share of scripts in their area, which means a slow decline in profitability," advises Mr Reid.
"In today's market, all independent pharmacies need to consider a new business model. This is a model that has the ideal mix for your patients, from script volume, profitable services and completing the shopping trip with an OTC purchase."
Going for growth? Ask an expert
Dennis Reid of Retail Performance Specialists is a retail specialist who helps companies increase sales, performance and profitability. He has more than 35 years experience and has worked with major companies including Nike, Gucci, Nokia and Marks and Spencer. He now works with community pharmacies to deliver his Pharmacy Growth Programme, and is so confident in his expertise that he is guaranteeing a 10-fold return on investment over 18 months or your fee returned.
The new pharmacy performance model
The new model is based on a whole business opportunity, looking at script volume, service profitability and the number of items sold per patient visit. Pharmacies need to make more of their customers' monthly spend.
"It is a proven model in many sectors of retail," comments Mr Reid, who runs workshops on how to implement the model. "You need to tune into the greatest opportunities in your area and make changes based on your business culture." This means calculating the opportunities in your area for volume, services and products. This starts with a business review and opportunity forecast: volume (script penetration), profit (services) and products (for key patient groups).
Ask yourself the following question, says Mr Reid: "For every script you hand over, how many customers buy something else and enquire about a service? It's important to maximise patient contact to make more sales, as better engagement expands the opportunity to get more of their weekly spend."
And while there are many obstacles to making changes in any busy business, including the ability to identify, create and adopt best practice, you will know that the changes are working when your numbers move in the right direction, says Mr Reid. How quickly might results be seen? The answer is simple: "It's as soon as you make enough change sufficient that patients notice and value the difference."
Following on from this, Mr Reid suggests that it's time to consider what changes you need to make to be ready for another year of business. It's important for independent pharmacies to be ready for the challenges of 2016, he emphasises. "Don't leave it for another week or month – do something today."
Article by p3pharmacy
http://www.p3pharmacy.co.uk/how-independent-pharmacies-can-thrive